Dr. Uyen Huynh, DDS
Specializing in Current and High Quality General Dentistry Services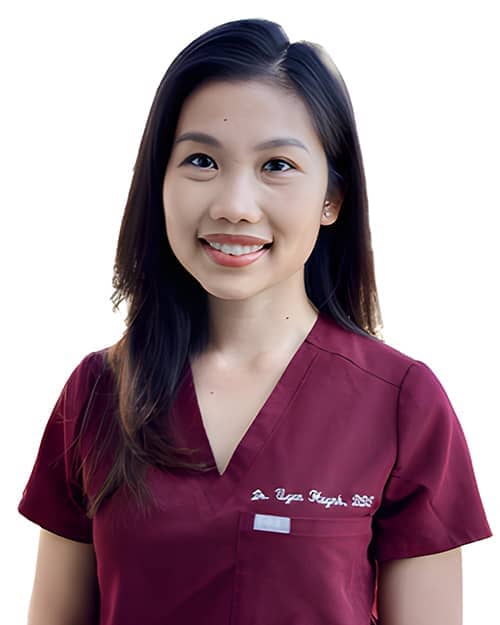 About Dr. Huynh
Dr. Huynh is a compassionate and dedicated dentist known for her calming presence, gentle approach, and warm friendliness. She offers high-quality dental services, including deep cleanings with laser therapy, fillings, crowns, veneers, extractions, and dental implant restorations. Additionally, she is proficient in providing clear aligning treatment with Clear Correct technology.
Dr. Huynh is passionate about helping her patients address their oral health diseases, cosmetic concerns, and creating more smiles. Her approach to dentistry is grounded in her belief that every individual deserves personalized care. She takes the time to listen to her patients, addressing their concerns and tailoring treatment plans to suit their specific needs. She is dedicated to making dental appointments more comfortable for patients, encouraging them to seek routine care rather than waiting until issues become severe.
Born and raised amidst the vibrant culture of Saigon, Vietnam, she carries the rich heritage of her homeland with her as she left to pursue education in the United States. After graduating from the University of California, Davis, she took a gap year to explore healthcare professions while working at a local bakery in Sacramento. She then pursued dental education at the Arthur A. Dugoni School of Dentistry in San Francisco and graduated among the top 25 of her class with honors. She is now passionately serving the diverse community in San Francisco, her cherished new home.
I enjoy creating smiles in every possible way—whether it's by helping an anxious patient get through their appointments, alleviating the tooth pain they've endured for days, or performing cosmetic procedures. The smiles at the conclusion of each appointment is truly rewarding.
Personal Interests
Outside of work, she enjoys strolling through the streets of San Francisco, staying active, immersing herself in nature, and expanding her collection of seashells. Though she may not consider herself a skilled cook, she finds joy in the process of experimenting with various recipes and gradually improving her culinary skills.