General Dentist San Francisco
---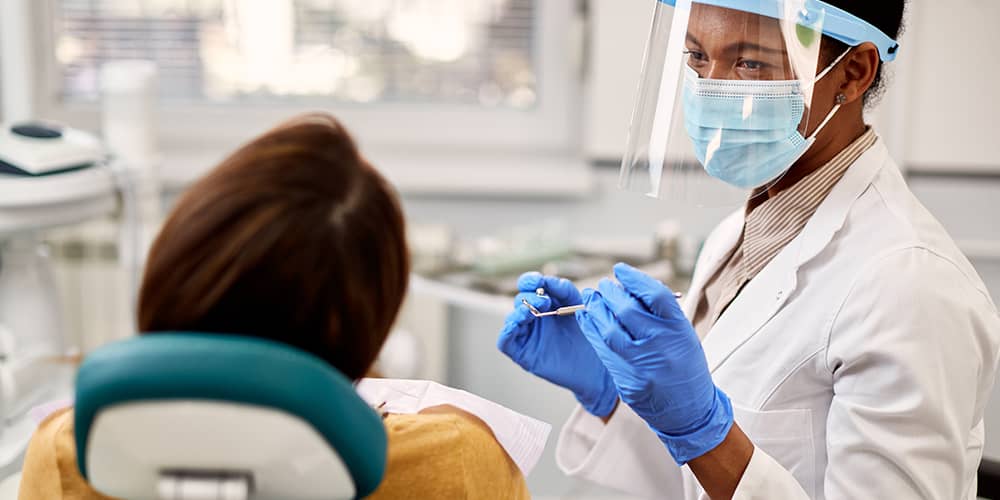 Your oral health is an integral part of your overall health. If your oral health isn't good, it can lead to many problems. That's why it's important to visit your general dentist regularly. General dentistry encompasses all of the essential treatments needed to maintain your oral health. Not only do these services keep your smile looking good, but they also help to prevent tooth decay, gum disease, and oral diseases.
When it comes to finding the best dentist in San Francisco, you want someone experienced, skilled, and knowledgeable. You also want someone you can trust to take care of your entire family and give you the best possible care. Our professional, dedicated dentists at Young Dental SF Group offer a wide range of services to help you achieve and maintain optimum oral health. If you and your family are looking for a general dentist in San Francisco or a pediatric dentist in San Francisco, we want to help.
What Is a General Dentist?
A general dentist is a trained professional who provides routine dental care and treatment. General dentists are usually the first point of contact for patients when it comes to their oral health. They are responsible for diagnosing and treating various oral health problems. In addition, they also provide preventive care and education to help patients maintain good oral hygiene habits.
General Dentist Treatments and Procedures
Our general dentists provide a wide range of treatments and services. These include:
Preventive Treatments. We offer a variety of preventive treatments to help our patients avoid oral health problems. These include routine dental cleanings, fluoride treatments, and sealants. We also provide patient education to help them understand the importance of good oral hygiene habits. If you're active and play contact sports, we can also fit you with a custom mouthguard to help protect your teeth.
Restorative Treatments. If you have cavities or other damage to your teeth, our restorative treatments can help. We offer fillings, crowns, bridges, and dental implants. We also provide root canal therapy to save teeth that are infected or damaged.
Cosmetic Treatments. We offer a variety of cosmetic treatments to help our patients achieve their desired smile. These include teeth whitening, veneers, and bonding. We also offer Invisalign and ClearCorrect clear aligners as an alternative to traditional metal braces.
Dental Emergencies. If you have a dental emergency, we are here to help. We offer same-day appointments for emergency dental treatments. Problems like knocked-out teeth, abscesses, and toothaches can be incredibly painful. We will do everything we can to get you on the road to recovery as quickly as possible.
General Oral Health Concerns. Your dentist is highly trained to identify any oral health concerns you may have. If they notice a cause for concern, they will work with you to develop a treatment plan. Issues like oral cancer, gum disease, and tooth decay can be treated effectively if caught early.
How Often Should You Visit the Dentist?
The American Dental Association (ADA) recommends that patients visit their dentist at least once every six months for a routine cleaning and checkup. However, some patients may need to visit more frequently depending on their individual oral health needs. For example, patients with gum disease may need to visit more often for treatments like deep cleanings.
How Qualified Is a General Dentist?
All of our general dentists are highly qualified and experienced. They have all completed extensive training and education to provide the best possible care for their patients. Dentists in the USA are required to complete a four-year undergraduate education and four years of dental school. They must also pass a rigorous licensing exam to receive their DDS or DMD. In addition, our dentists are constantly updating their skills and knowledge to stay up-to-date on the latest advances in dental technology and treatments.
Pediatric Dentistry
As well as offering general dentistry, we also have dentists who specialize in pediatric dentistry. Children have different needs than adults, and our dentists are trained to provide the care they need. They are experienced in dealing with the unique oral health needs and anxieties of young patients. They understand how to put children at ease and make them feel comfortable during their appointments. If you're looking for a pediatric dentist in San Francisco, we can help.
Your General Dentist in San Francisco
At Young Dental SF Group and our partner practice Post Street Dental, our main concern is our patients. Whether you're an adult or a child, we want to make sure you are comfortable and enjoy your dental experience with us. We understand that some patients may feel anxious about going to the dentist, so we will be with you every step of the way.
If you're looking for a qualified and experienced general dentist in San Francisco, visit us today at 490 Post Street, Suite 830, San Francisco, CA. Our friendly and knowledgeable staff will work with you to ensure all of your oral health needs are met. We offer a wide range of treatments and services, so you can be sure we will find the right solution for you. Call (415) 392-8611 or complete the online booking form to schedule an appointment.
FAQ
Can a general dentist do a root canal?
Yes, a general dentist can do a root canal. Most root canals are performed by general dentists. A root canal is commonly used to treat an infected or damaged tooth.
Can general dentists do braces?
Yes, general dentists can do braces. Our dentists specialize in Invisalign and ClearCorrect aligners.
Do general dentists do extractions?
Yes, general dentists can do extractions. Whether an emergency extraction or a wisdom tooth removal, our dentists are qualified to perform the procedure.
What is the difference between a general dentist and an orthodontist?
An orthodontist is a dentist that specializes in the treatment of misaligned teeth and jaws. They use braces and other appliances to straighten teeth and correct bite issues. A general dentist does not specialize in orthodontics, but they are still qualified to do braces and other orthodontic treatments.
Contact Us
"*" indicates required fields